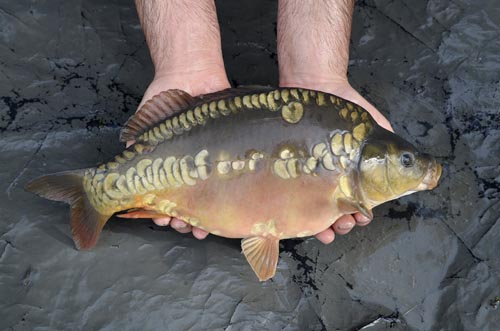 Exclusive carp for sale
Coming soon... A very small-scale fish farming business based in the heart of Somerset, offering syndicates, clubs and private lakes something very unique and highly exclusive. For the very first time in over 20 years of fishery management and fish breeding, this coming winter (2019/20), we will be offering a small number of our special carp to other fisheries. All fish will be fully health checked and the only stipulation we request is that the receiving venue is fully 'predator proofed'.
Our ethos here at Springwood Fishery has always been about creating a vibrant and special gene pool by mixing different strains of carp from some of the UK's most famous venues. The bloodlines of our carp contain genes from the likes of the legendary Black Mirror, as well as the famous Leney strain and a 'hint of dink' for good measure! Furthermore, collective strains from the likes of Frampton Court, Wellington Country Park, Stoneacres and Coate Water also form part of our unique gene pool. Every single fish shows characteristics of the above strains and nothing gives us greater pleasure than to ensure the bloodlines of these iconic carp are preserved for future generations.
We have now reached the point whereby we will have some fish surplus to our requirements. These will be mainly fish of between 4lb and 8lb at 3 summers old, but also a small number of bigger fish when we drain down the main lake this coming winter. We are of course not selling these carp on this website, but interested parties should contact Mike on the following email address for more information: mike@essentialbaits.co.uk
There are no products to list in this category.
Liquid Flavours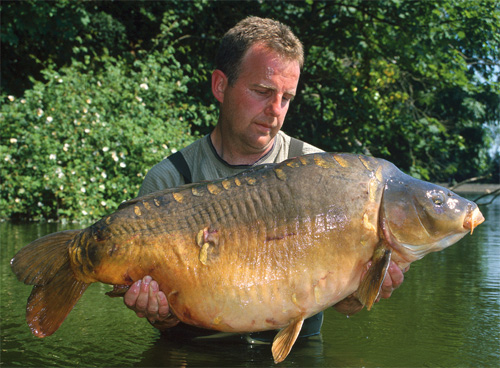 A cracking forty-plus caught from a pressured venue on the B5 with Shellfish Plum flavour. Bait choice was a key factor to a very succesful campaign on this venue.
Liquid flavours play an important roll within the creation of a successful long term bait recipe for a number of reasons. They will not only help to give the finished bait it's own unique taste profile, but also give it a distinctive 'label' that the carp will come to recognise through association. In other words, you will be educating them to eat the bait and recognise the 'taste' and 'smell' over a period of time.
Be careful not to get flavours confused with attractors though, because in terms of nutritional value, unlike liquid foods, they have little or no food value, however, for the reasons outlined above, they are a very important addition to any successful recipe.