Stockists
Whilst the vast majority of orders come through our website or telephone order hotline, we still supply a small number of highly respected tackle shops and support them wherever possible - please see list below.

Devon
Exeter Angling 01392 436404

Hants
Ringwood Tackle 01425 475155

Herts
Johnson Ross Tackle (Hoddesdon) 01992 462044

Kent
The Tackle Box 01322 292400

Shropshire
Blakemere Leisure (Whitchurch) 07973 254626

Somerset
Somerset Angling (Bridgwater) 01278 431777

Surrey
Backhurst Bait Supplies (Guildford) 01483 811360

Wilts
The Tackle Company (Melksham) 01225 793463

Yorks
Wickersley Angling (Rotherham) 01709 540998
European Customers
Many carp anglers across Europe have been astounded by the quality, 'catchability' and presentation of the Essential Baits range compared to other baits they have used in the past. We have received reports of some unbelievable captures of big carp from difficult waters due to the fact that Essential Baits offer a much higher level of quality than they have ever seen before.

Most UK anglers now accept that Essential Baits are the best quality food baits available, but now anglers throughout Europe are slowly beginning to realise that they can use a much higher quality bait to improve their catch rates.

Don't forget we offer good discounts on bulk orders, which will help offset the cost of shipping. For example a customer in Holland can purchase 25kg of boilies delivered to their door for about £9.00 per kilo delivered! Please see table below for shipping costs and if your country is not listed please contact us for a quote.

For further information you can email mike@essentialbaits.co.uk

| Delivery destination | up to 29kg |
| --- | --- |
| Belgium, France, Luxembourg, Netherlands and Germany | £15.00 |
| Czech Republic, Denmark, Italy, Spain, Slovakia and Austria | £20.00 |
| Hungary, Poland, Sweden, Portugal and Slovenia | £25.00 |
Note: Each additional box is the same price, for example, if you wanted two boxes sent to Germany (up to 58kg) this would be £30.00 shipping costs.

Unfortunately we are unable to send our freezer bait range to non UK destinations, however, many overseas customers use our ESL (extended shelf life) boilies with fantastic results. These can be put into your freezer on arrival and treated in exactly the same way as our freezer bait range.

For smaller orders such as flavours, additives, liquids etc, please contact the Tackle Box in Kent at www.tacklebox.co.uk who offer very competitive postal rates to Europe for smaller items.


European Stockists
We have a small number of European stockists but with such good shipping costs, many European anglers can now obtain their baits direct from Essential Baits at very competitive rates. Please see below some of the European companies that we supply....

Austria
Website contact: www.carpers-allerlei.at
Austria has become a real a hot bed for carp fishing in recent years and after some excellent results we are pleased to say that many Austrian carpers are now realizing the true potential of Essential Baits . Our main contact is Rene Schreiber and the email contact is: info@carpers-allerlei.at

Czech Republic
Website contact: www.rc-bigfish.cz
Carp fishing is expanding in the Czech Republic and we are very pleased to supply Bigfish CZ with our high quality range of carp baits, which are already catching some very impressive fish over there.

Michal Homolka is the main man behind Bigfish and is a very experienced carp angler who will be pleased to help you with any enquiries.email: michal@rc-bigfish.cz

Germany (Boilie rolling)
Website contact: www.bait-service-straubing.de
We were very impressed by this specialist bait rolling company who have many years experience in rolling baits to customers own specifications. We supply Base Mixes and liquid additives to this company who supply many carpers in Germany.
This page will be updated periodically to bring you the latest European export news.
Boilie Glugs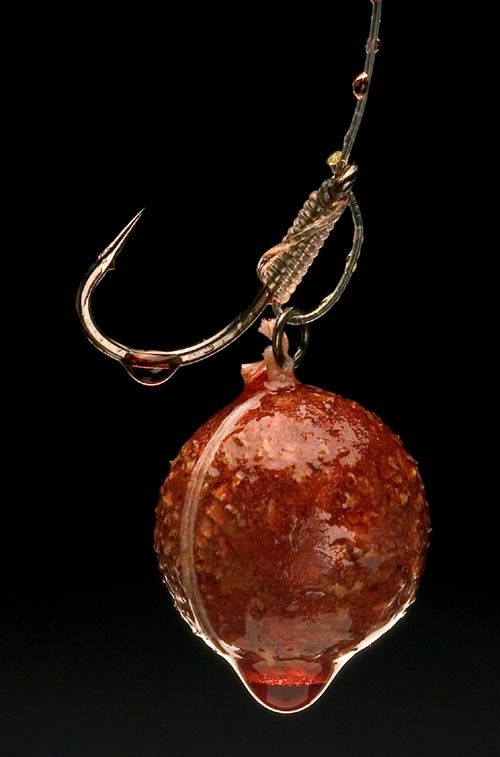 The use of boilie Dips/Glugs to increase attraction levels can be extremely effective, particularly on short sessions or for using single hook baits when you want to boost the food signals.

For 'glugging up' your baits, just pour approx 20ml of your chosen liquid into a 1kg bag of boilies and shake well to ensure even distribution. This can be done before placing them into the freezer or after they've been taken out. If applying the liquid after the boilies have been taken out, it's best to let them thaw out first before adding the liquid. It's also advisable to add the liquid to the boilies a few hours before you hit the bank, thus allowing a little time for the boilies to soak it up, although this isn't imperative.

For boosting your hook baits only, one useful ploy is to leave them permanently soaking within the solution and this will really 'kick out' the attraction. Bear in mind that pop-ups are likely to loose a little buoyancy if doing this for long periods. Alternatively you can just pour 10ml of the liquid solution into a jar of pop-ups and shake well. This will give them an extra boost without effecting buoyancy levels too much.