How To Order
Ordering from this secure user-friendly site
Using the product index you can navigate this site to find the items you wish to purchase, you then just need to select the appropriate size, quantities etc before pressing the 'Add to cart' button. The contents of your shopping basket will then be shown and you will have an option on whether to 'Continue Shopping' or 'Checkout'.
There is also a facility to remove goods from your basket (red bin icon) and to update your basket. At the checkout stage new customers will be asked to create a customer profile whilst returning customers will be asked to enter their email address and password. When either is completed you will be able to continue shopping or proceed to the checkout. When you have finished shopping you just need to follow 3 simple steps…
Step 1 Shipping information
On this page you will be asked to fill in the address that you require your goods to be sent. There is also a 'Special Delivery Instruction' box for if you need your goods to be left in a safe space, i.e., porch, shed, neighbour etc. Please remember that we cannot accept responsibility for any goods left without a signature.
Step 2 Payment information
On this page you will need to include your card payment details. When ordering from this site we can assure you that no one else can view your card details.
To confirm your order continue to Step 3.
All prices include VAT and postage is free on all orders of £100 or over. Remember we are here to help so if you have any queries please don't hesitate to phone or send us an email.
Payment via telephone
We can accept all major credit/debit cards for customers who prefer to pay by phone using card transactions. Please call 01278 427634 Mon to Fri during office hours.
Payment by post
All cheques made payable to Essential Products (cheques take 5 days to clear). Postal orders also accepted, as well as Credit or Debit cards via fax. Fax number 01278 450618.
Collection from Essential
We provide a very efficient 'end of week' collection service whereby customers can collect direct from Essential by arrangement only. The two collection days are Friday's and Saturday's. We will need to know your order in advance by calling 01278 427634 during office hours or via email at essential@baits.freeserve.co.uk
Non-UK customers
Payment via our secure online shopping cart by any major credit or debit card or via PayPal. Bank Transfers also acceptable but need time to clear (contact Essential for details). Alternatively credit or debit card via phone or fax.
For further enquiries telephone +44 (0) 1278 427634, Fax +44 (0)1278 450618 or email essential@baits.freeserve.co.uk
Carp Life 2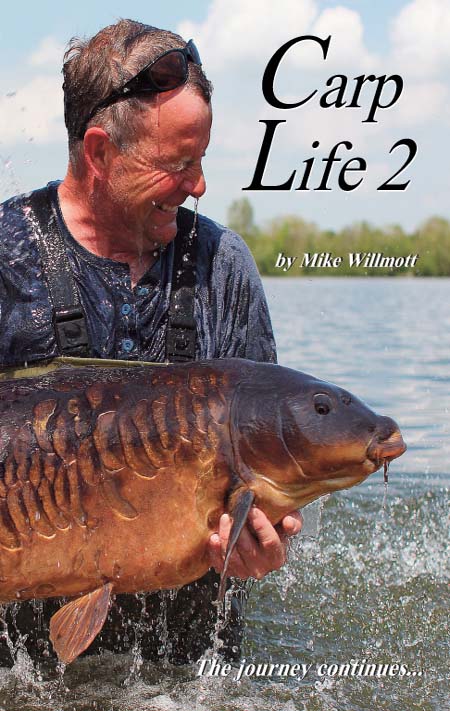 The long awaited follow up to Carp Life is now available. The book contains a massive chapter on bait, as well as Mike's continued journey through life fishing a plethora of different venues home and abroad, including his quest for the iconic Black Mirror, a successful river campaign, his exploits at Frampton and several other high profile UK venues. This highly acclaimed book is not one to miss and is absolutely huge!
Despite 2 large print runs, Carp Life 1 has completely sold out! Don't miss your chance to pick up a signed copy of Carp Life 2 before it's too late. Please click the following link for more info:
https://www.facebook.com/Carp-Life-426223497522931/?ref=hl