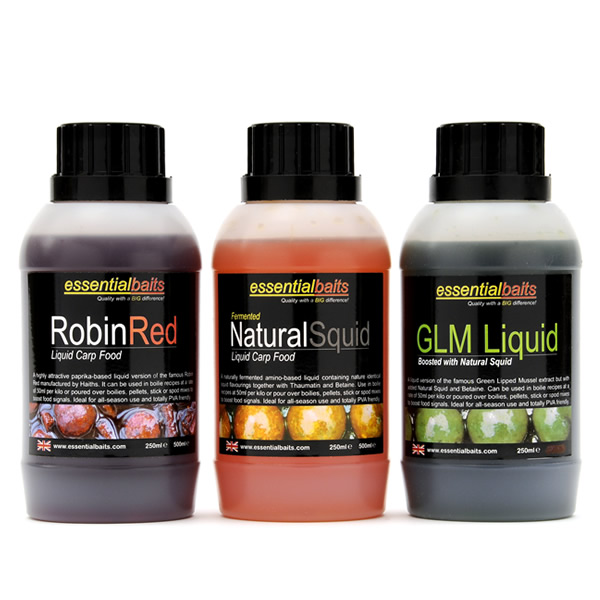 Liquid Foods
This exclusive range of Liquid foods contain a complex blend of Natural and Nature identical flavourings in conjunction with active fermenting sugars to stimulate a rapid feeding response.
They will not melt PVA bags or mesh but are water soluble and will therefore send out highly attractive food signals into the surrounding water. Ideal for dampening down Bag 'n' Stick Mixes or for general groundbait use, but can be used for a number of different applications. Specifically developed for all-season use.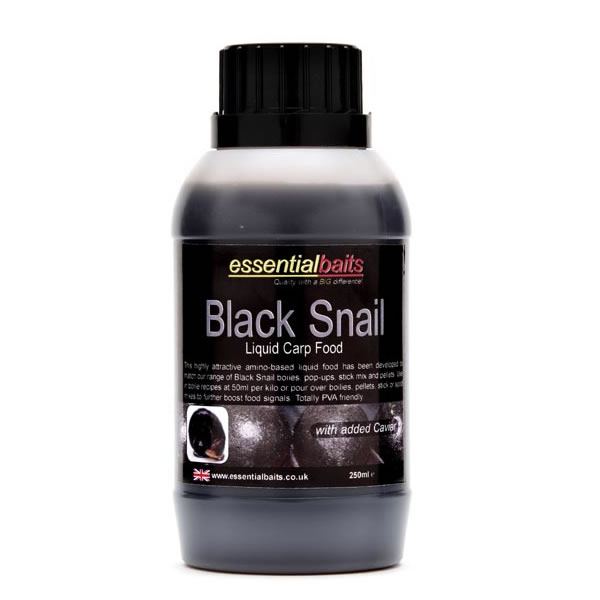 Black Snail Liquid Food
A unique and exclusive liquid food compound that stimulates a fantastic feeding response and contains the same attractors found within our Black...
View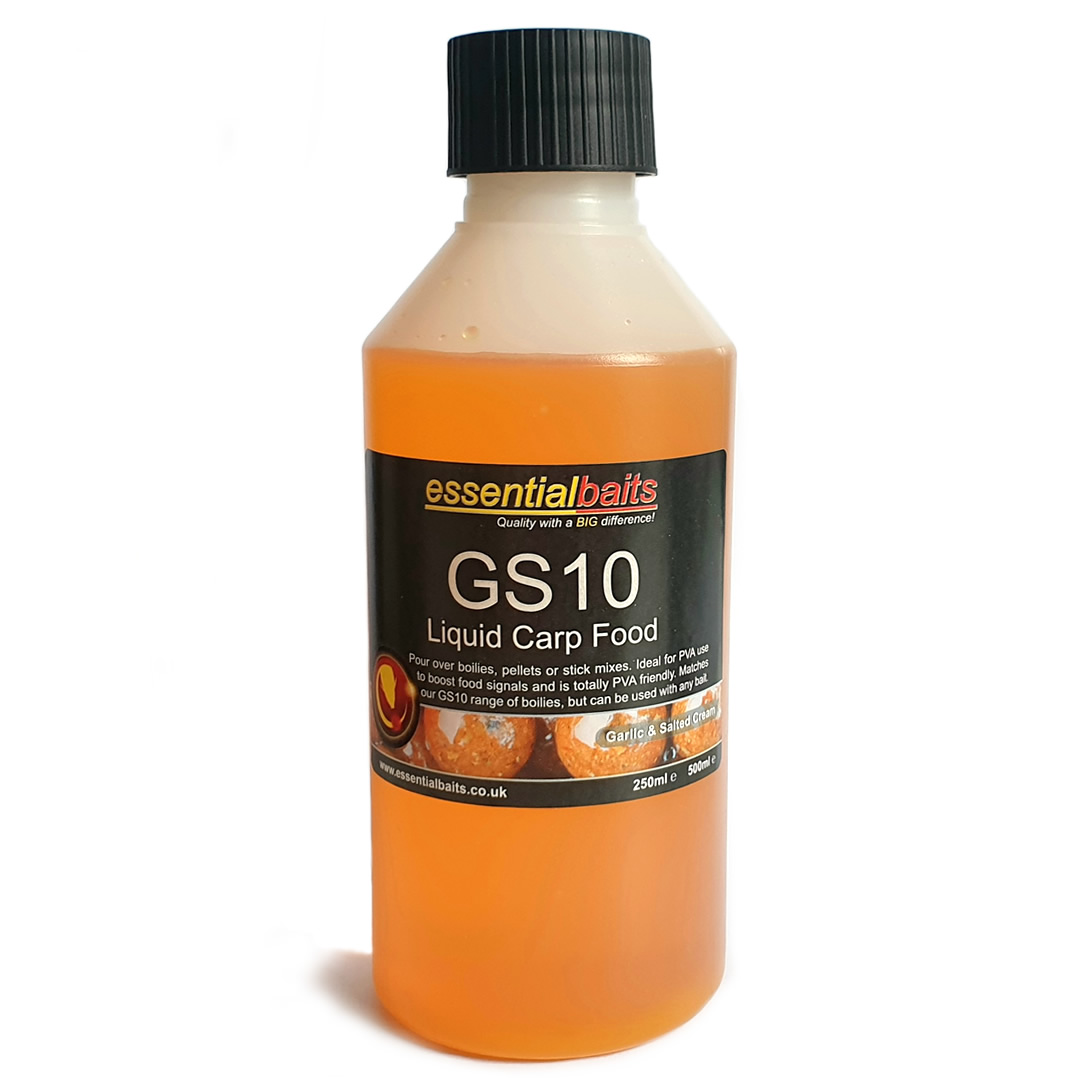 GS10 Liquid Food
Pure Liquid Gold in every sense of the word! The carp absolutely love this stuff, and when you consider the fact that it's based on 100%...
View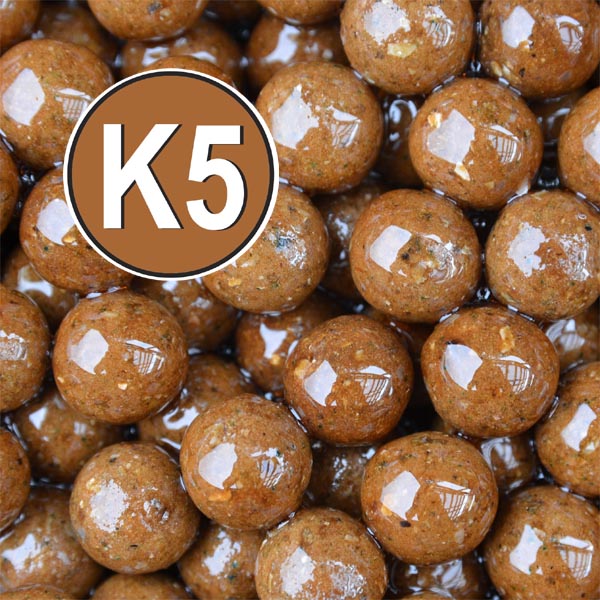 K5 Liquid Food
A unique and exclusive liquid that has been specifically developed to match our range of K5 boilies, matching hook baits, pellets and Stick Mixes....
View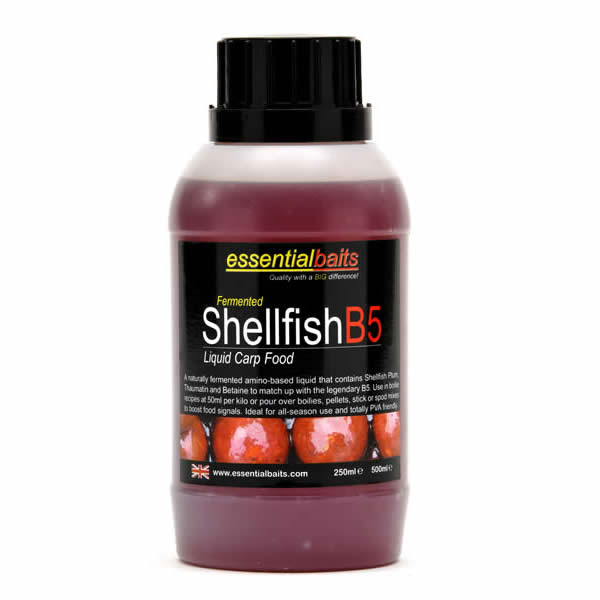 Shellfish B5 Liquid Food
With added Thaumatin-B to activate fermentation process. Just about our most popular Liquid food and if you've ever used it, you probably...
View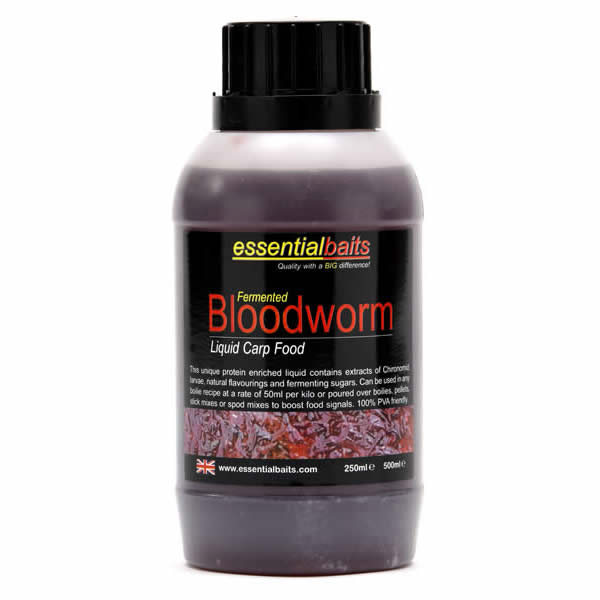 Fermented Bloodworm
Crammed full of Amino's, natural extracts and nature identical compounds to leak off what we believe to be the closest possible signal to that...
View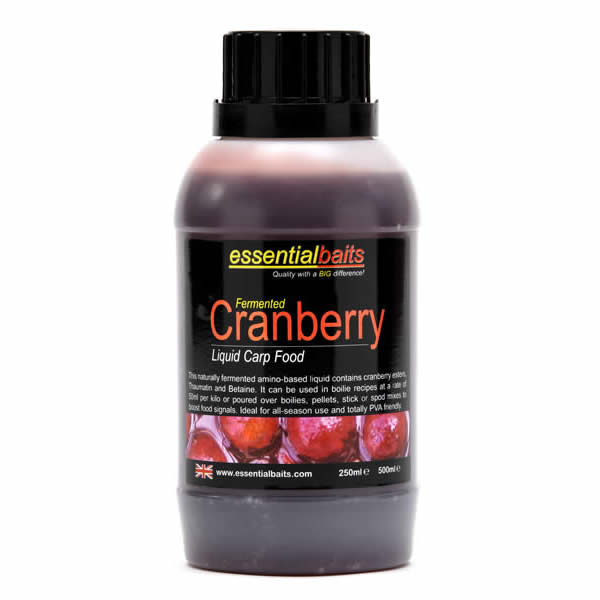 Fermented Cranberry
Cranberry is undoubtedly one of the best carp attractors of all time, and its track record speaks for itself. We are confident that we have the...
View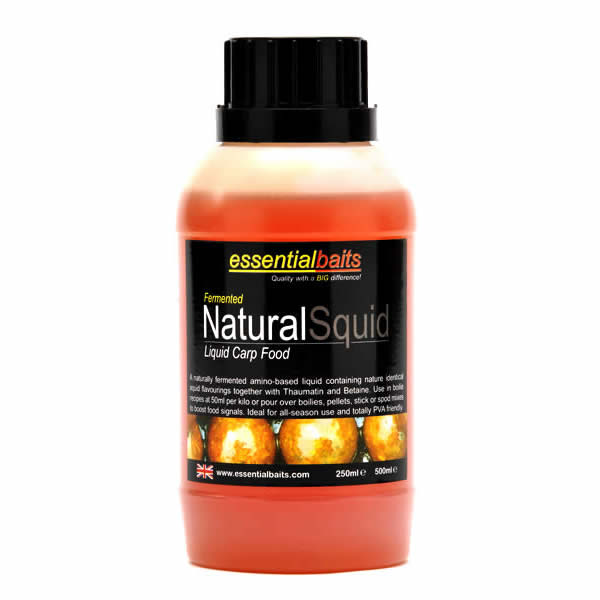 Fermented Natural Squid
If you like Squid based attractor packages, you will love this one! This highly attractive 'amino-rich' liquid has been developed to...
View
Fermented Creamseed
his is the perfect liquid to use in conjunction with our CreamCSM Bag 'n' Stick Mix and CreamCSM pellets. As with our full range of...
View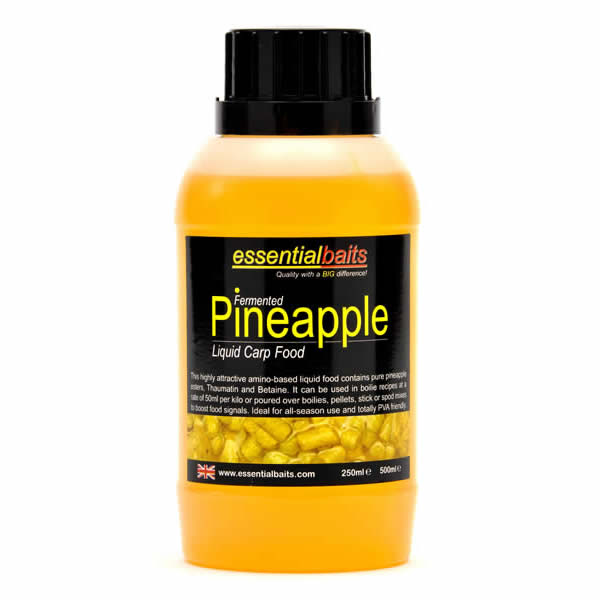 Fermented Pineapple
This is the latest liquid on the range and one that has proved exceptionally successful during the past 12 months. A Pineapple/Amino based compound...
View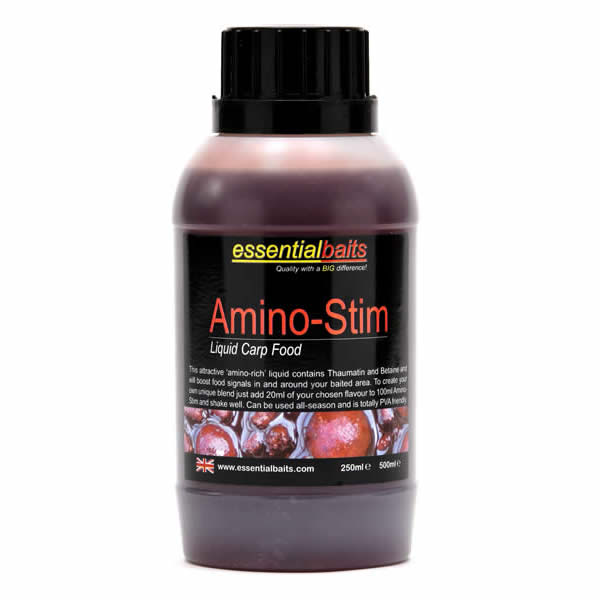 Amino-Stim
This highly stimulative 'amino-rich' compound is extremely popular and has been supplied to many of the UK's 'top carpers'...
View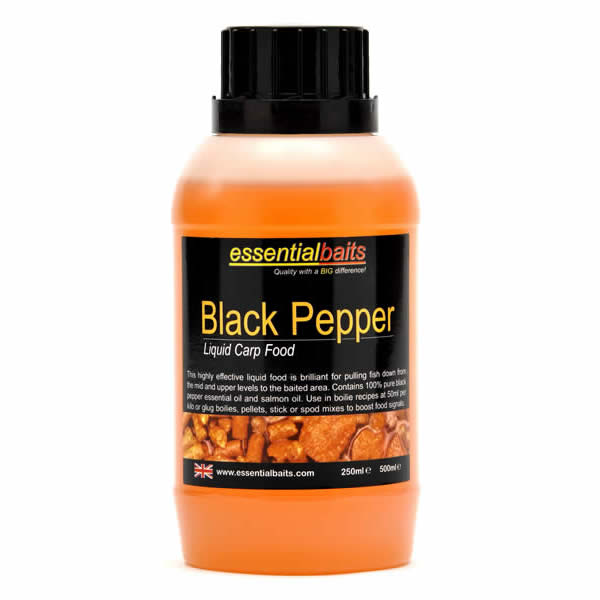 Black Pepper
Black Pepper essential oil is without a doubt, one of the finest carp attractors of all time. We have sourced the best of the best (Indian Black for...
View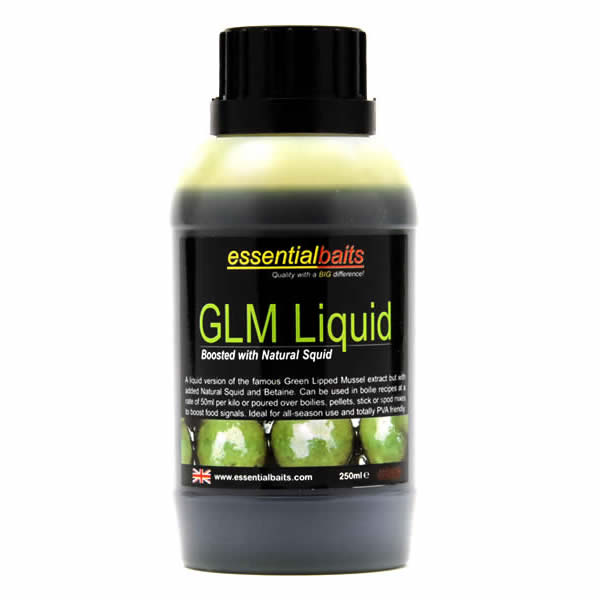 GLM Liquid
No one could argue just how much of an impact Green Lipped Mussel has had on good quality food baits over the years. It is an outstanding ingredient...
View
Advantages of Liquid Foods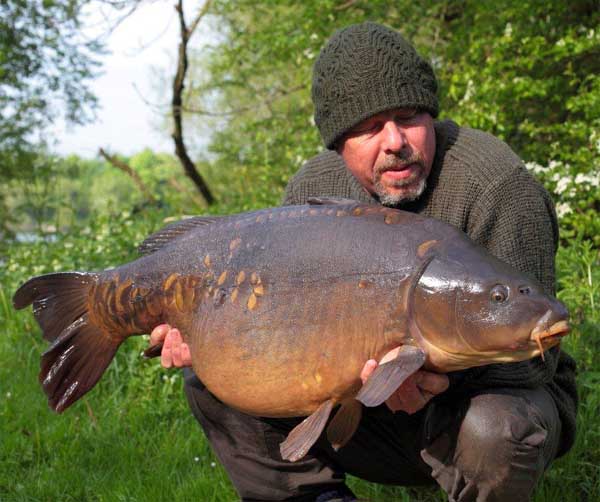 Long time carper Dave Gawthorn proudly displays a stunning 40lb+ mirror. Dave often uses Essential's Liquid Foods to his advantage.
Liquid food additives are undoubtedly an important part of the carp angers bait armoury. Their main function is to boost food signals in and around your baited rig or your baited area. Stick Mixes or groundbaits can simply be mixed together with water, but by adding a liquid food as well, you will be increasing the food signals coming from the bait, which in turn is far more likely to lead to a quicker rate of investigation and more frenzied fish activity.

Coating pellets with a Liquid Food will disperse quicker/better messages of food than pellets used on their own, and a single Pop-Up launched in the middle of nowhere will undoubtedly benefit from boosting the attraction properties with a Liquid Food. They can be particularly beneficial for short session use when you need to maximise attraction in the minimum amount of time. They are also beneficial for coldwater use when we need to send extra messages of food through the water column in an attempt to arouse those otherwise lethargic carp. Ignore them at your peril!